Japanese tour 1991
Stewart / Gaskin live in Japan 1991
Barbara Gaskin (vocals / keyboards), Dave Stewart (keyboards),
Andy Reynolds (guitar / keyboards / vocals)
Live mix by Andrew Murdock

Club Quattro, Tokyo (Friday / Saturday November 1st & 2nd 1991)
Bottom Line, Nagoya (Monday November 4th 1991)
Muse Hall, Osaka (Tuesday November 5th 1991)
Honmoku Apollo, Yokohama (Friday November 8th 1991)

SET LIST
1. Walking The Dog
2. I'm In A Different World (inc. A World Of Difference)
3. Henry & James
4. My Scene
5. The Cloths Of Heaven
6. Grey Skies
7. The '60s Never Die
8. Levi Stubbs' Tears
9. Amelia (Joni Mitchell)
10. Trash Planet
11. Cast Your Fate To The Wind
12. Subterranean Homesick Blues

- encore -

13. Waiting In The Wings / Whole Lotta Shaking In My Heart (medley)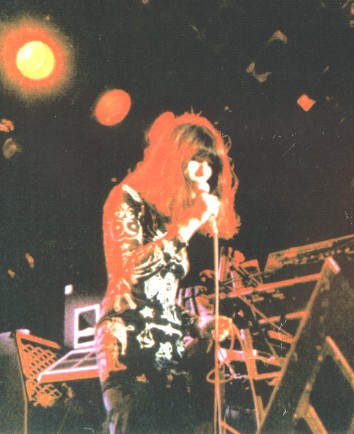 .
Barb in Tokyo - 1991


The first Japanese concerts: the Stewart / Gaskin trio play five gigs on a short tour sponsored by their record company MIDI Inc., equipment manufacturer Korg and Rittor Music (publisher of the Japanese Keyboard Magazine). Big crowds turned out to see in the flesh musicians they had been listening to on record since the mid-70s, and an immediate musical bond was formed.




Back to home page

Back to Stewart/Gaskin live concerts

Previous Stewart/Gaskin concerts




Return to top

All text, images and audio files on this website copyright of Broken Records, UK.
Please do not reprint, upload or share without permission. Thank you!